One man presses to preserve a rarity in the county's unique Victorian town.
You get a sense of wanderlust and hopelessness when exploring the deep recesses of 144-year-old Hobensack's Mill in Ivyland. On a frigid afternoon, preservationist Bob Cremeans and I spent a few hours climbing ladders, examining massive gears rusted in place, and peering down from dizzying heights into the dark holds of box-car-sized silos stretching to the gabled roof. Yellow pine beams and flooring from an Adirondack forest remain as sound as when constructed. With an encyclopedic knowledge and expertise as a carpenter, Bob pointed out the mill's intricacies as we moved through what really is a gargantuan barn. It's subdivided into many floors and chambers with a 450-foot-deep well and a large basement steam engine that once powered a fully-automated feed mill, unique in the late 19th century.
Like the mill, Ivyland is frozen in time. The tiny borough was the dream child of Edwin Lacey. On purchasing 40 acres of a Warminster farm off Jacksonville Road in 1873, he envisioned a beautiful Victorian town. Lacey laid out square building plots with four wide, east-to-west avenues for horse-drawn railcars that would move people about.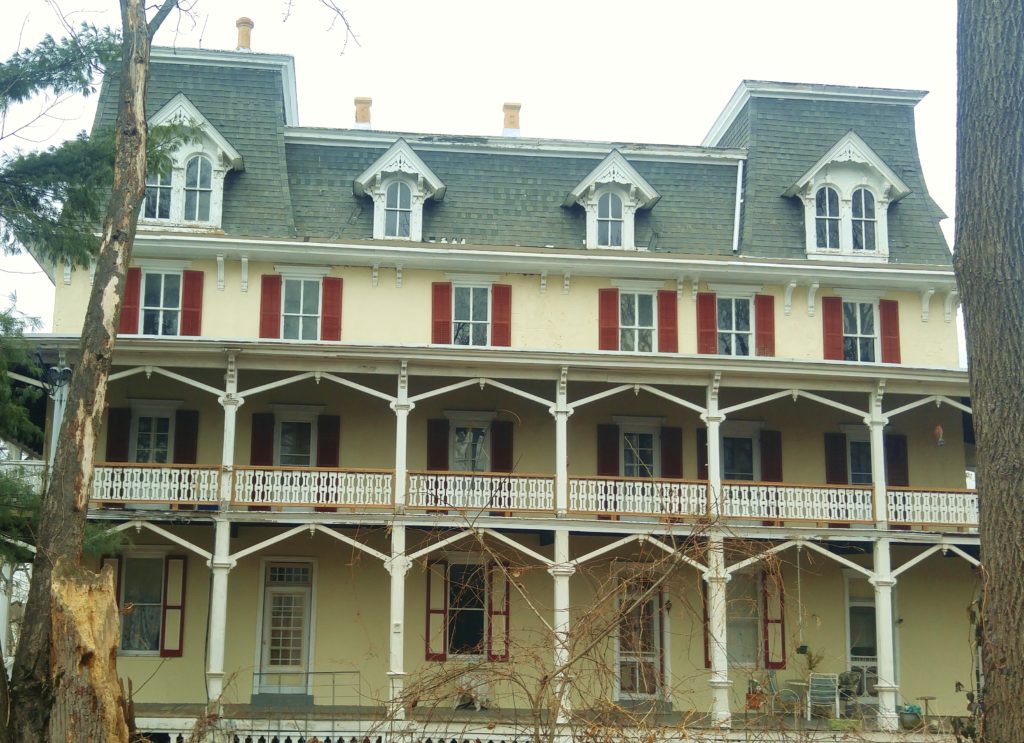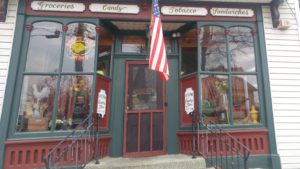 At the time Northeast Pennsylvania Railroad was building an extension from Hatboro to New Hope – right past Ivyland, named for leafy vines that Lacey didn't realize were poison ivy. The first building was to be the developer's grand Temperance House Hotel. He assumed visitors to the 1876 Centennial Exposition in Philadelphia would swarm out of the city to visit Bucks. Lacey's 4-story hotel with its imposing French Mansard-style roof would beckon and help sell property in town.
Unfortunately, a recession caused money to tighten. Construction of the hotel slowed. The Exposition came and went. Still no hotel. Completed in 1879, it never opened. Rather, a buyer bought it at sheriff's sale. Still Lacey's vision of a pocket town succeeded. Railroad passenger service helped. Ivyland's general store founded by Wilmer Carr drew a large customer base by offering high-end merchandise including dress material of pure silk. Carr also built a coal yard and feed house. In 1890, brothers William and Frank Hobensack bought the property and vastly enlarged it to a fully-automated elevator mill alongside the tracks to serve Warminster, Northampton, Southampton, Warwick and distant farms. The mill thrived, processing flour, cider, seed, feed pellets and lump coal until 1931.
Today, Ivyland's 230 buildings are considered the finest Victorian settlement in Pennsylvania, placing the town on the National Register of Historic Places. The general store remains open as a deli where antique furnishings draw interest. With an independent fire station, police department and local government, Ivyland is second smallest municipality in Pennsylvania at just a third of a square mile.
As for the feed mill, Laura Cremeans, Bob's wife, and her mother Sandra Robinson bought the mill in 2015 after an eight-year struggle. In 2008 when the trio first became interested in it, Bob gave tours to local state Rep. Scott Petri (R-178) and other dignitaries in hopes of attracting public money for a museum. Interest has lagged however. A deal with a private school to use the mill as classrooms also failed due to parking issues.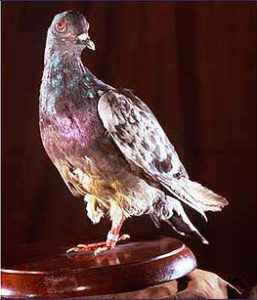 Bob, who reminds me of a cross between David Letterman and Garrison Keillor, led the way as we climbed to the fourth floor and out onto a death-defying catwalk. We proceeded to a small room under the roof-line near a window. It was there in 1907 the U.S. Army Signal Corps began housing 90 homing pigeons. Gradually handlers trained them to fly specific routes up to 40 miles to and from the mill. When World War I came along in 1917, the birds were transported to Europe to carry command messages between Army headquarters and battlefield soldiers. One of them became a hero. Cher Ami (French for "Good Friend") saved nearly 200 trapped American soldiers by flying for help to headquarters 25 miles away despite enemy snipers holing one wing and blowing off a leg.
In my view, the mill is overly cluttered with boxes, pipes, flanges, wires, so much rubble from bygone businesses that it denigrates the interior. I suggested a cleanup day to remove what now clogs the mill. It would open up the building to a better appreciation of its history.
Standing outside as a cold wind whipped by the two of us, I was struck by how similar the building appears to the lonely, abandoned sentinels I've seen on the Great Plains and down South. Weathered gray clapboard siding, a railroad caboose snuggled up to the backside, no human activity. Kinda sad. Cremeans who lives in town admitted he's running uphill in chasing his vision. "My fear," he conceded, "is this will all be torn down some day."
Sources include "Place Names in Bucks County Pennsylvania" by George MacReynolds published in 1942; Ivyland Borough's website, www.ivylandborough.org; and "Ivyland Historic District" from Living Places on the web, http://www.livingplaces.com/PA/Bucks_County/Ivyland_Borough/Ivyland_Historic_District.html