Bucks County's highest waterfall and stones of mystery provide a great fall adventure.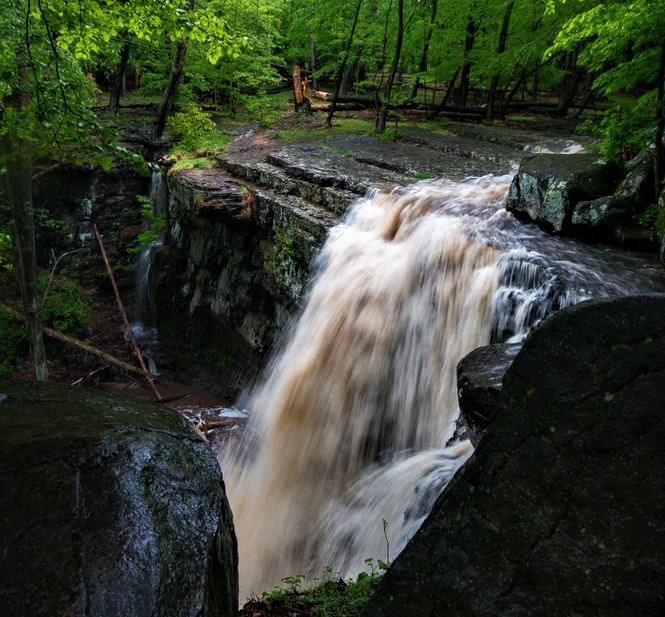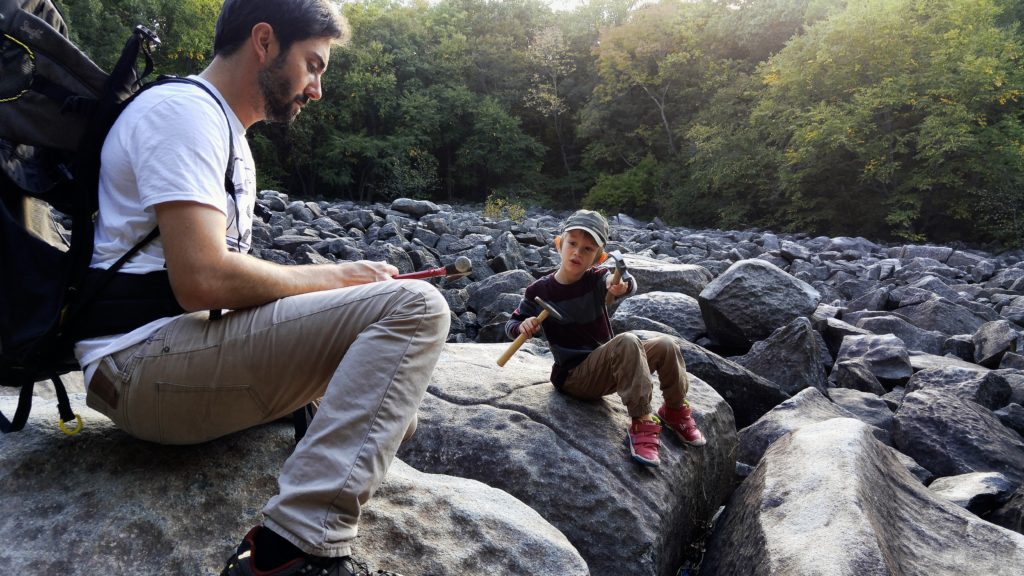 My favorite backpack has seen much travel and many unique places. I typically carry a pair of small, steel rock hammers inside. Helps when looking for embedded fossils or cracking open gemstones of the kind my grandchildren love. The one place we like to putz around in Upper Bucks County is known for its waterfall, mysterious boulders and an unusually flat, wide streambed that leads to an upstream swamp, always good for exploring and rock hunting in dry weather. It's here after heavy rainfall, you can sit on a ledge over a wide gorge and view with awe runoff shooting skyward from a sheer rock cliff down to where battered trees lie in the basin like Lincoln Logs. When the stream is full, High Falls become's the county's version of a Niagra: A flume 50 feet wide and 30 feet high, the best in Bucks. Historian George MacReynolds described the setting this way in 1942: "When the snow and ice on the swamp melt in the spring or following a drenching shower, the falls present a spectacle worth seeing."
High Falls is one of the wonders of county-owned Ringing Rocks Park located in Bridgetown Township. A short hike from the falls is a seven-acre, 10-foot-high field of rounded boulders as if poured from the bag of a high-stepping giant. Using the hammers in my pack, we've pounded out different musical tones by striking the boulders.
Mary Anne and I introduced this rare natural phenomenon to our daughter Genevieve when she was a child and now she shares the joy with her husband Michael and our grand kids Dashiell and Margaux. Pennsylvania is known to have seven other similar boulder fields including a half-mile, disconnected flow called Stoney Garden at the base of Haycock Mountain about six miles west of Ringing Rocks. Only Stoney Garden and Ringing Rocks have musicality. None are as celebrated as Ringing Rocks.
Geologists have debated endlessly how such stones originated. Most seem to agree they are derived from a layer of sedimentary ooze baked by hot lava, then freeze dried. It took millions of years of weathering for the stone casserole to fracture into the Ringing Rocks we see today. The earlier volcanism aligned aluminum and iron minerals into brown and red filaments running through each stone, giving them their musicality like strings of a violin. Some compare the sound to that of a blacksmith striking an anvil with his hammer. Rocks barely touching other stones ring more clearly. If suspended, the pitch is even better.
More than 100 years ago, Dr. J.J. Ott from nearby Pleasant Valley proved it. He impressed an audience of the local Buckwampun Literary and Historical Association with a musical performance at Ringing Rocks. Ott carefully chose specific stones depending on their tonal quality, then suspended the 200-pound obelisks to create an octave of the musical scale. Kind of like a geologic xylophone. Backed by the Pleasant Valley Band, Ott played "Home Sweet Home" and other folk ballads to the appreciative crowd. Latter day wags have suggested it was history's first "rock concert".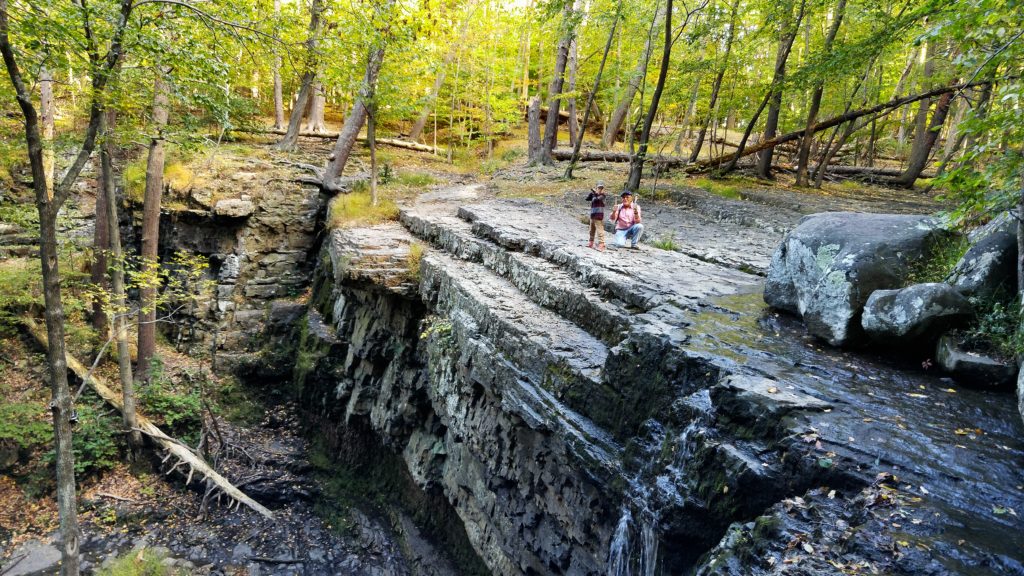 Given Ott's experiment, the idea of any visit to Ringing Rocks is to find stones that are lightly touching other stones or find smaller ones to lift and balance before striking with a hammer. It's then you'll be mesmerized by the bell-like tone. Steel hammers, metal bars, even sticks can be used by the amateur maestro. However, I've been told that cracking open a boulder is to end its musicality.
Ringing Rocks Park is a regional oddity with its magnificent waterfall that runs full at select moments, boulders that ring like bells, and visitors running around the woods with hammers. Don't be too alarmed. Researchers have noticed what they believe is a paranormal facet of the park as well: No birds fly over the stone field, there are no bird droppings and a magnetic compass can go haywire among the boulders. Also, why don't rocks in the adjoining forest ring like bells? Interesting. Got to check this out someday.
In the meantime, our next quest is to locate a curious formation known as Roaring Rocks. The phenomenon is said to exist at the headwaters of Swamp Creek off Roaring Rocks Road in northwestern Tinicum Township. Runoff from another wetlands swamp flows over and under boulders with such force it supposedly produces a deceptively deafening roar. The stream continues its four-mile meander toward the Delaware River along Upper Tinicum Church Road, crossing over Swamp Creek at the Erwinna Covered Bridge. The span is one of the oldest in Bucks, built near the Delaware Canal in1832. The bridge, the stream, historic homes, farms, the winding road and that "roar" make for another adventure.
Watch this space.
Sources include "If Rocks Could Sing: The Ringing Rocks of Bucks County" by Michael T. Cianchetta published in 2010 by the Pennsylvania Center for the Book at Pennsylvania State University, and "Place Names in Bucks County Pennsylvania" by George MacReynolds published in 1942.