Amid governmental oppression in Plumstead, the Doan brothers chose a path to infamy.
There's no better place to experience the mystique of the Doan brothers than a spooky graveyard in Plumstead and the sleepy hollow of Fleecydale Road in Solebury. The latter is where the outlaws hid in caves and cabins between nocturnal raids. I visited both sites recently in order to re-tell the tale of the Quaker gang that almost toppled the American Revolution.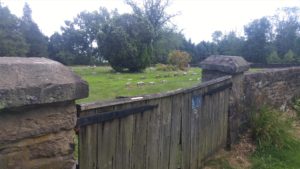 Fleecydale Road meanders from the Delaware River through a deep, three-mile ravine in a heavily-wooded landscape. Follow the ribbon of asphalt beside rushing Paunnacussing Creek and you come to picturesque Carversville. The route passes Colonial-era homes and re-purposed 18th century grist mills like the one where J. Walter Livezey III and sister Becky Grawe live. They grew up there and know the Doan story well. I asked about the nocturnal ghost of Moses Doan on horseback said to pound through Fleecydale in a suicidal flight from a posse. "Nope, never heard that one," smiled Walt. He and Becky agree the only ghost they're familiar with is old "Cahl" who occasionally unlocks a mill door.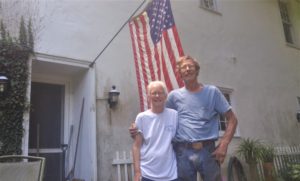 As to the Doans, the five brothers began life as passivists in nearby Plumstead, obliged by their Quaker upbringing not to take sides in the Revolution. The boys were tall, handsome cowboys with dark brown hair and Romanesque noses. They were superior athletes. Moses, the eldest of Joseph and Hester Doan's brood and distinguished by an unusually long neck, was indomitable as a wrestler and lorded over area youths.
Because of the family's neutrality in Revolutionary times, local government excessively taxed them, raided their crops and eventually seized their farm. The brothers and a cousin retaliated in an 8-year reign of retribution led by Moses. They robbed tax collectors, became enemy spies and stole hundreds of horses to aid the British. Moses, 25, struck fear in the back country, dressed in long slicker jacket and wide-brimmed hat astride a coal-black mustang named Wild Devil. A master of disguise, he was British Army Gen. William Howe's "Eagle Spy" for how precise his dispatches were. It was Moses who discovered unguarded Jamaica Pass, enabling Howe to swarm 10,000 Redcoats into Brooklyn to rout Washington's army at the Battle of Long Island on Aug. 27, 1776. The decisive victory put the Continentals in flight to Philadelphia in what seemed the beginning of the end for the young rebellion.
The following December, Washington and remnants of his army decided on one last gambit. Moses from Jericho Mountain in Upper Makefield noticed them mobilizing for a Delaware River crossing. The spy forded the river at a ferry above New Hope, secured a horse and raced through a blizzard down the Jersey side to Trenton. There he hand-delivered a written warning to mercenaries guarding the capital for the British: "Washington is coming on you down the river, he will be here afore long. Doan". The Hessian commander ignored the intelligence, ensuring Washington's seminal victory.
As warfare dragged on, the Doans remained a terrifying threat, staging at least 30 robberies. Tax collectors feared for their lives though none were harmed. The gang, listed as traitors, hid by day in caves and remote cabins. Three days after the British surrender in Yorktown in 1781, the outlaws stormed the Newtown home of the county treasurer and forced him to hand over the entire Bucks treasury. An estimated $200,000 in tax revenue was never recovered, thought to be buried in Wrightstown during the getaway.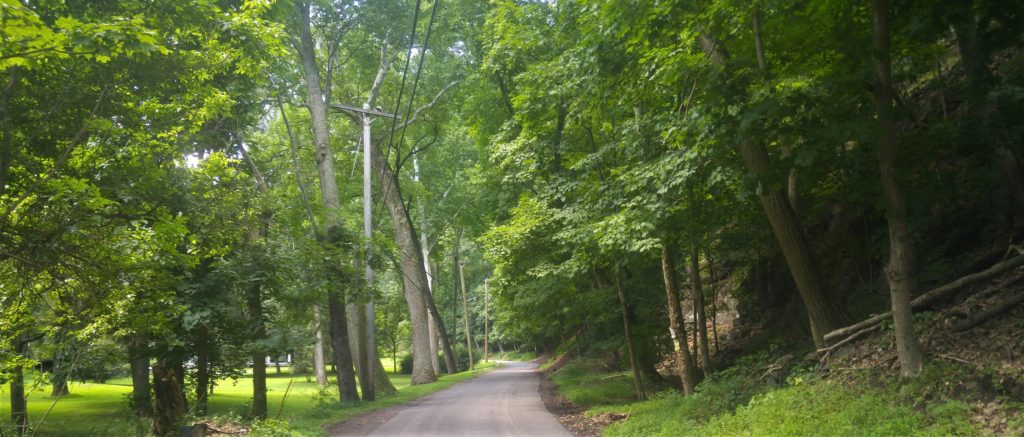 The Doans evaded justice until 1783 when word leaked out Moses was hiding in a cabin off Fleecydale Road. A posse of 14 armed men from nearby Gardenville Hotel sped to the scene. In the resulting skirmish, Moses was subdued, then shot to death. Militia Major William Kennedy died of shrapnel from a rifle blast in a struggle with Levi and his cousin Abraham. Both escaped. With the leaderless gang on the run, Joseph Jr. and brother Mahlon fled to Canada. Aaron Doan disappeared as well. However, Levi and cousin Abraham were captured and hung in Philadelphia in 1788. Their bodies were buried next to the Friends burial ground in Plumstead; local Quakers would not permit outlaws within the cemetery. As for Moses, he's buried nearby on private property.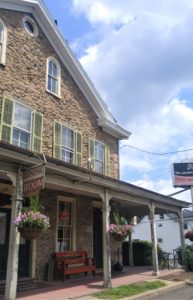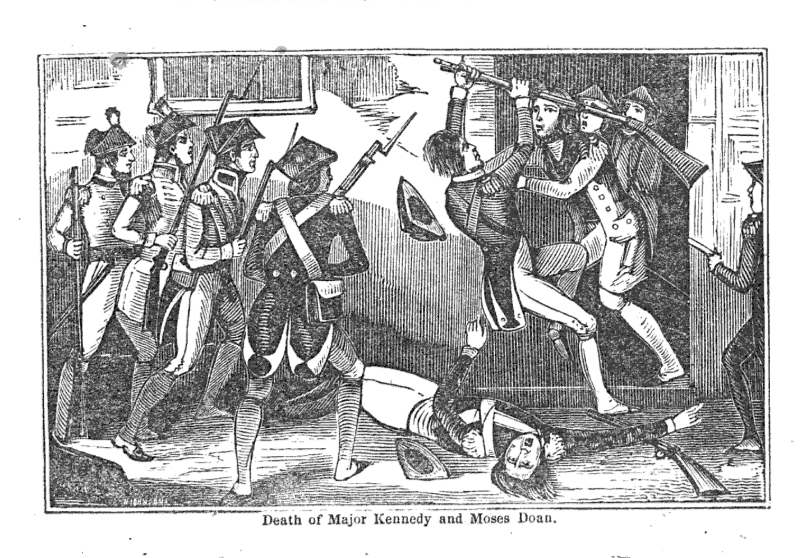 Annette Eubank of Plumstead told me how to find Abraham and Levi's graves: Lean out over the cemetery's back wall and look down. Snuggled close are two tombstones, back-to-back, their names and "outlaw" engraved on each. Camera in hand, I confess a bit of trepidation, aware of the old saying: "Never sneak up on a Doan dead or alive."
Annette, like many in Central Bucks, enjoy stories of the Doan Gang. In her opinion, government encroachment on the Doan farm was inexcusable. "It's upsetting to be reminded that our land is not really our land if the state wants it."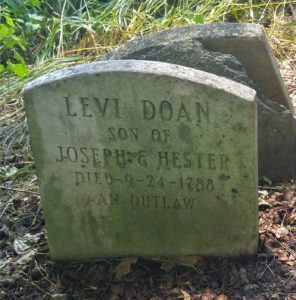 Myths about the Doans
Doan Gang escapades in Revolutionary times led to many myths. Here are a few:
– The Doans were Robin Hoods who helped the poor (Loyalist view).
– The Doans were supernatural (Patriot and British view).
– Moses rode Wild Devil to his doom off a cliff above Fleecydale Road to avoid capture.
– The gang buried $2 million which never has been found.
Primary sources for this column are Peter Mulcahy's "The Life and Times of the Plumstead Cowboys" available online at www.doanefamilyassociation.org/DoanOutlaws.pdf and "The Doan Gang: The Remarkable History of America's Most Notorious Loyalist Outlaws" by Terry A. McNealy published this year.