Published in the Bucks County Courier Times and the Intelligencer on Monday 29 May 2017. 
'Smartest Horse in the Movies'
In the golden age of Hollywood Westerns, Roy Rogers' Trigger had a hoof-hold in Upper Bucks.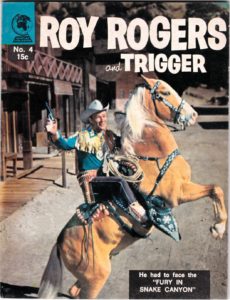 In horse breeding circles, they're called "yellows". To the American public, they're palominos. As a native of the San Joaquin Valley of California, I've always admired them, often in the background at farms around Merced. My sisters and I grew up watching them prance through the streets of Pasadena in the annual Rose Bowl Parade.  Movie cowboy Roy Rogers astride "Trigger" was special. His palomino was majestic and beautiful with golden hide, white mane, tail and markings on his face and legs.
Chad and Marie Jones of Richland Township in Upper Bucks recently reached out to me for help in solving a palomino mystery. "I've heard some incredible stories," said Chad. "I would love to find out more." Chad is a race car parts dealer in Ottsville. Marie is a 5th grade Pennridge teacher. On purchasing a portion of the former 133-acre Kings Orchard farm a few years ago, the young couple heard Trigger was raised there. Could this be true? The Jones' 27-acre porton of the original farm includes a two-story, ranch-style home overlooking a broad, sloping lawn leading to a spring house, swimming pool, spring-fed pond and surrounding woods. Chad and Marie showed me photos of Kings Orchard in the 1950s when it was a horse farm prior to being broken up for auction. A large part of the original acreage now owned by neighbor Harry "Trip" Kahn is where they believe Roy Rogers' horse was stabled.
Turns out there was more than one Trigger for Rogers' 81 movies and 101 television shows from 1938 through the 1960s. Early movies featured the first Trigger, the singing cowboy's favored mount who was born in San Diego. He learned 150 tricks including walking on his hind legs, how to bow, sit on a chair, sign "X" with a pencil, lie down and cover himself with a blanket.  He also was housebroken – important, given all his stage performances.
Trigger had a demanding schedule, appearing in Wild West movies plus county fairs and convention centers all over the country. He needed a stand-in. Paul Kratz Fisher who owned Doylestown's Sheetz Furniture Store had a pony almost identical to Trigger. Born in 1941, Allen's Gold Zephyr was stabled at Kings Orchard, one of nine farms that made up the Fisher Farms brand on both sides of the Montgomery/Bucks border. With earnings as a Souderton banker and auctioneer and from his furniture stores in Doylestown, Souderton and Allentown, Fisher became the largest yellow horse breeder in the country with 800 palominos that foaled 100 colts annually. Hollywood cowboy legends Hoot Gibson, Ken Maynard and Tom Mix were regular customers.
Rogers, known to the American public as "the King of the Cowboys" and for his "Happy Trails" sign-off tune, befriended Fisher and for six years quested after Gold Zephyr whom he envisioned as Trigger Jr. Because the pony was particularly close to daughter Doris who broke him, Fisher wouldn't part with the him. Whenever Rogers appeared at the Quakertown Fair, he stayed in the house now owned by Kahn.  "At the time there were mangers and stables everywhere," Kahn who rides horses told me. "One hundred ponies grazed on the property and Trigger Jr. was kept in a barn here."
Fisher auctioned off his livestock in 1947. In doing so, he sold Gold Zephyr to Rogers. Renamed Trigger Jr., he was sightly smaller than Trigger but nearly identical in markings. Trigger Jr.'s intense dressage training in Lancaster County made him as accomplished as his namesake. He also loved to dance in the manner of a Lipizzaner stallion.
Trigger Jr. became a mainstay for Roger's many national appearances. During a performance at the Allentown Fair in 1962, he learned Fisher was ill and dispirited in Grand View Hospital in Sellersville. To cheer him up, Rogers, wife Dale Evans with Trigger Jr. visited the hospital. A beaming Fisher left his room under the care of nurses and nuzzled up to his old pal outside. The horse whined remembrance. Then Fisher saddled up for old times sake.
P.K. would bounce back to enjoy the last years of his life, passing at age 91 in 1990. Today his legacy as a horse breeder can be found in archives and in Souderton where his main ranch is now the Indian Valley Country Club located 10 miles from Kings Orchard. The palominos that had a niche in Hollywood history no longer roam Fisher's grasslands. However he and Roy Rogers left a  "Happy Trail" to the past for Chad, Marie and neighbor Harry to contemplate in Richland.
Sources for this column include "An Illustrated History of Trigger" by Leo Pando; "Walking Horse News" issue of September/October 2000; Jack Brubaker's "Eras Past" in Lancaster Online of May 30, 2003; and "Trigger, The Smartest Horse in the Movies' at www.RoyRogersWorld.com
Carl LaVO, a weekly columnist and retired Calkins Media editor, is the author of "Bucks County Adventures". He will appear on June 11 at the annual meeting of the Lower Makefield Historical Society to discuss local history and sign books.  The meeting is set for 3 p.m. at the Patterson Farm, 949 Mirror Lake Road.  He can be reached at carllavo@msn.com.