Voyage to 'Forbidden' Island
Was there once an amusement park to rival Coney Island on storied Burlington Island in the Delaware River between Bristol and Burlington City?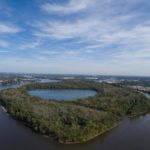 The answer to that question is often debated. Some say yes. Others say no way, like Patricia Wandling, good friend and local radio talk show host who knows a good midway when she sees it. In an attempt to get at the truth, pal Mark Bogdan and I cast off in kayaks from Bristol and headed for the heavily-wooded island in the river's shipping channel. There we portaged over a 15-foot-high berm to the island's 100-acre lagoon of warm, green water. Mark and I saw no butterflies, no fish, very few birds and no humans. A spooky silence settled over the landscape giving credence to one writer's 2016 assessment the island is one of the 10 "creepiest" places in New Jersey. We circumnavigated the lagoon, looking for paths to the interior. Few were found, mostly on the northern and eastern side.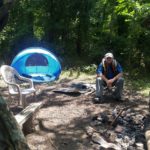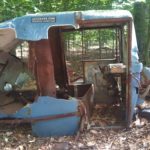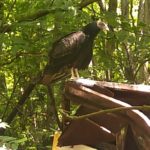 Based on rumors we were chasing, evidence of the amusement park is on the northern end. We found a narrow beach, put in and with the assist of a tree root climbed a dirt rise to woodlands intersecting a footpath. We passed a half-dozen abandoned campsites, one with a new canopy tent. Elsewhere we pushed aside twigs to inspect hulks of a speedboat, giant fuel oil tanks and a dory with a tree growing from its hold. We discovered a battered truck cab, axles frozen by rust. A sign proclaimed "forbidden" as a turkey vulture stared down in silence from a lofty pile of twisted metal.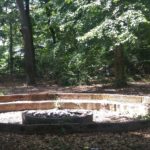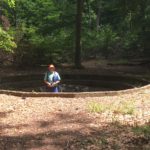 Mark spotted something strange: An 40-foot-wide circle of concrete enclosing a shallow trough. In the center is a cement pedestal. I thought maybe it was a former water fountain. Mark disagreed. "I think it was a kiddie boat ride with a water-filled trough." Mark is a water dynamics engineer; he should know.
We saw nothing else that might be part of a midway. But then, the woods were too thick to wander far without returning covered by ticks and spiders. It would take research at the Grundy Library in Bristol to put bones on the rumors.
Burlington Island – Matinicunk (Island of Pines) to Native Americans – harbored New Jersey's first European settlement when two families came ashore from Belgium to build a trading post in 1624. With tensions growing between Indians and Europeans, natives murdered two Dutchmen on the island in 1671. It was New Jersey's first recorded homicide. For the next two centuries the 399-acre island languished. Burlington City claimed ownership and rented it to farmers while selling 99 acres to the Baugher Sand Company. Eventually the company owner decided to build an amusement park like one he visited in California. In 1902 it opened as a picnic grove with bath houses, carnival rides, an ice cream parlor and swimming in the river.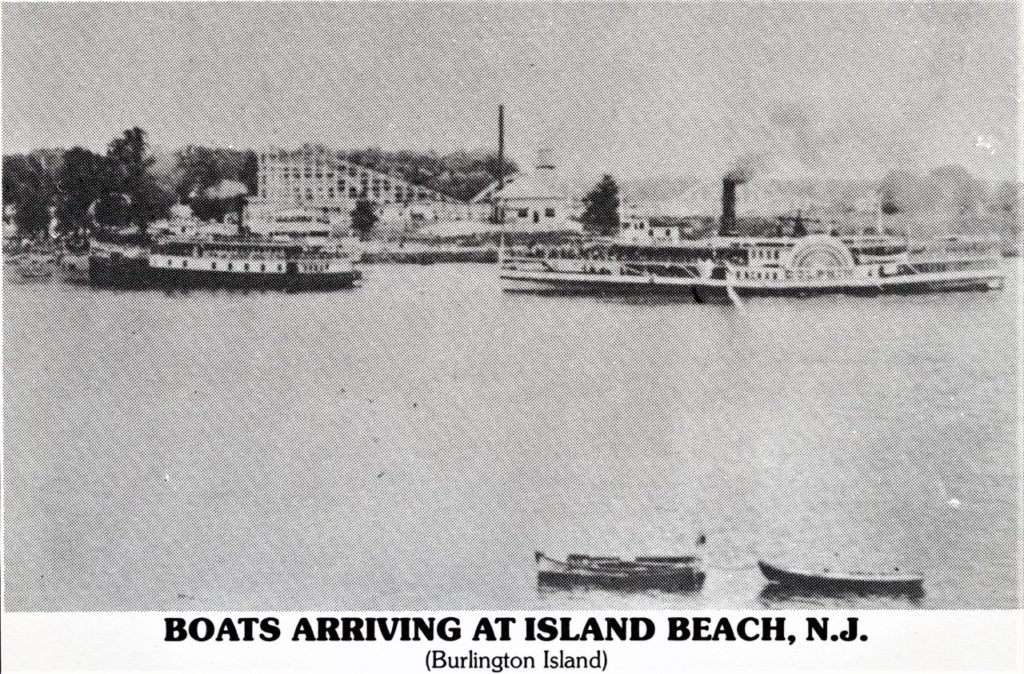 Ferryboats connected the island to Bristol and Burlington. River excursion boats and side-wheel steamships brought visitors from Camden, Philadelphia and Trenton. Forty rental cabins also went up on the island's upper reaches.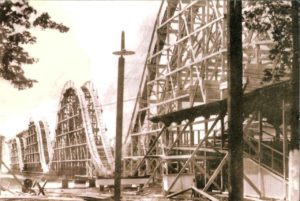 In 1917 a new owner greatly enlarged Island Beach Park. Attractions included a miniature railroad with replica Reading Railroad locomotives plus a massive roller coaster called "The Greyhound". Thousands upon thousands of thrill seekers and beach lovers mobbed the resort through the 1920s until a fire gutted it in 1928. A subsequent blaze in 1934 completed the destruction. Only the park's carousel survived.
For the next 30 years, the island became a sand-dredging site, creating today's interior lagoon. In doing so, the Warner Company destroyed remnants of the resort and earlier relics dating to Colonial times. Later, the Army Corps of Engineers dumped scrap metal and other refuse on the island.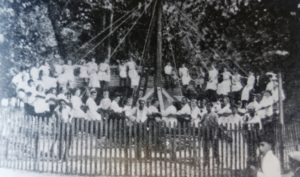 Over the years, plans to resuscitate the island as a tourist attraction have failed to gain traction. Burlington City in 2012 banned recreational uses due to liability and safety concerns. It's clear now to Mark and me that traces of "Coney Island-on-the-Delaware" disappeared when the lagoon was dredged. That is, all but the cement ring we found in the woods. With the help of the Burlington County Historical Society, turns out it was probably the foundation of the island's rotating swing or its carousel, the one that survived the fire.
With that in mind, I suggested we paddle down the Delaware to the Atlantic Ocean, then north along the coast to the beach town of Seaside Heights. There we'd come ashore and ride on Seaside's antique carousel. The one from Burlington Island!
Game on, Mark? He estimated it'd take an hour to reach the ocean on the swollen Delaware and three weeks to paddle against the Gulf Stream to reach Seaside Heights. Oh.
Sources for this column include "The History of Burlington New Jersey" by William Schermerhorn published in 1927.