Bucks County fans trekked to Cooperstown
to celebrate Langhorne's Hall of Famer.
Before all the speeches, before the parade of time-honored baseball superstars that she led through Cooperstown a week ago Saturday, there was that moment for Claire Smith to pause a moment, to soak up the mutual adoration of family, colleagues and close friends.
They had come from all over the country, among 27,000 fans who crowded Cooperstown for the annual induction weekend at the National Baseball Hall of Fame and Museum. They included 20 of us on a chartered bus from Bucks County to celebrate Claire at the cap stone of her life as a professional sports journalist. Along the way she knocked down barriers as the first woman voted into the writer's wing of the Baseball Hall of Fame.
For us, it was a reunion after a long passage of time. The stone terrace overlooking Lake Otsego at the James Fenimore Cooper Museum had been reserved for us just outside town. In our group were six of Claire's closest friends from high school. They would lose touch over the years, separated by careers, family obligations and locations. Then that magical moment arrived to a swirl of hugs, tears, smiles, animated banter and the glory of remembrance. And lots of photos.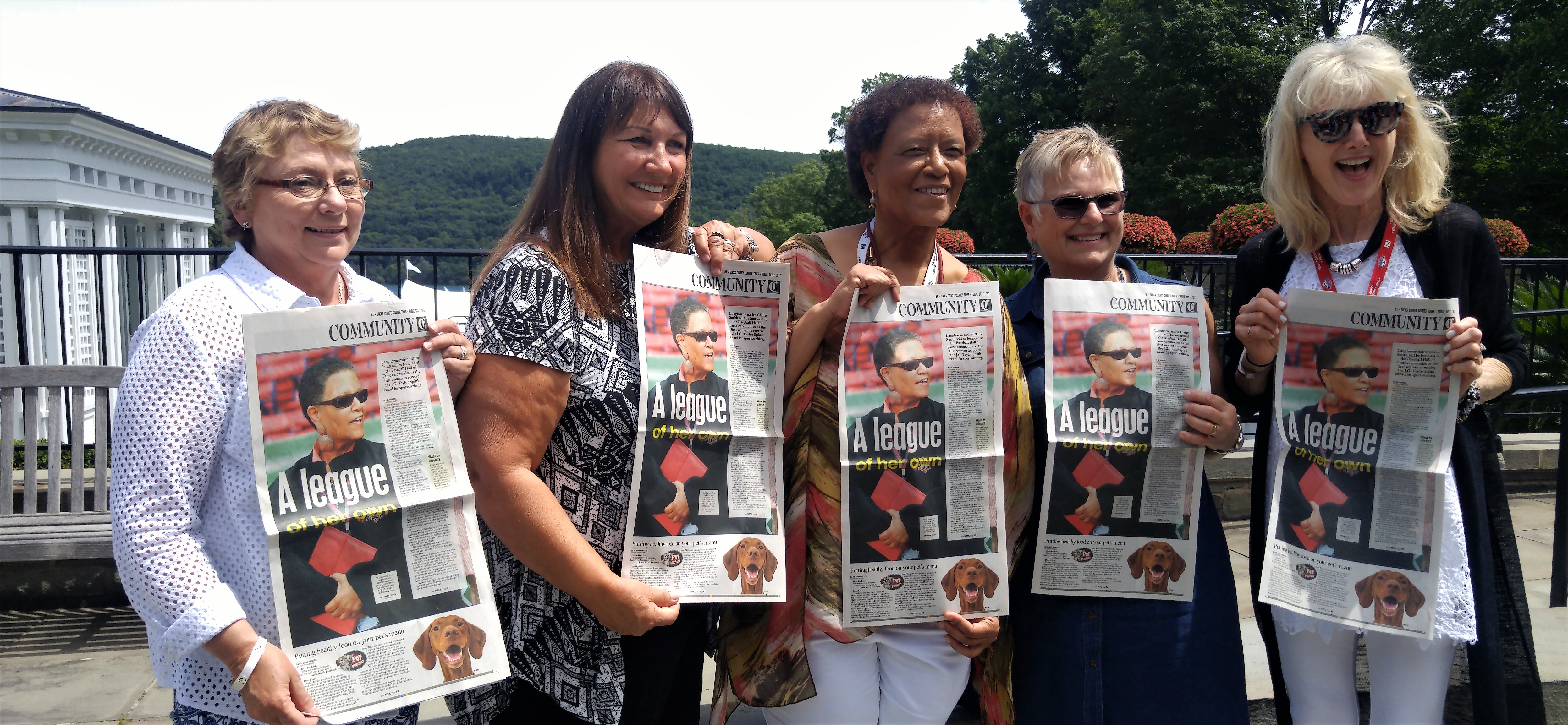 At the center of it all was Claire – calm, poised, quietly smiling as she scanned the group of family and friends. Said high school pal Ruth Celins O'Malley, "I wanted to be loud for her, run and jump around with happiness and joy. But that is not Claire; she has not changed over the years and that's a good thing!"
I count myself among the lucky ones to have gotten to know her and her family of Langhorne achievers, and to be with her at the beginning of her professional career at the Bucks County Courier Times in the 1970s. She was a young college intern and me a fledgling reporter. We both were following our passion in journalism. She, against the odds, became a national phenomenon.
In the beginning, there would be no role for Claire as a reporter in the all-male Courier sports department. So she jumped to the Philadelphia Bulletin where she got a chance to file two sports stories before the pape closed in 1982. From there it was off to Connecticut's Hartford Courant where she landed the newspaper's coveted New York Yankees beat. That led to the New York Times, the Philadelphia Inquirer and finally ESPN where today she's a coordinating editor.
Claire typically deflects personal praise to others. In our long embrace, Claire whispered over and over my name as I congratulated her, she deferring, "My brother is the one you ought to celebrate." Standing off to the side was Hawthorne, a Neshaminy graduate and now a New York-based psychologist and clinical director of the internationally acclaimed Bellevue/NYU Program for Survivors of Torture. In an aside to me, he marveled at how his sis pushed the envelop for women in general. "It's quite remarkable how she fought her way through the Old Boy network and changed everything."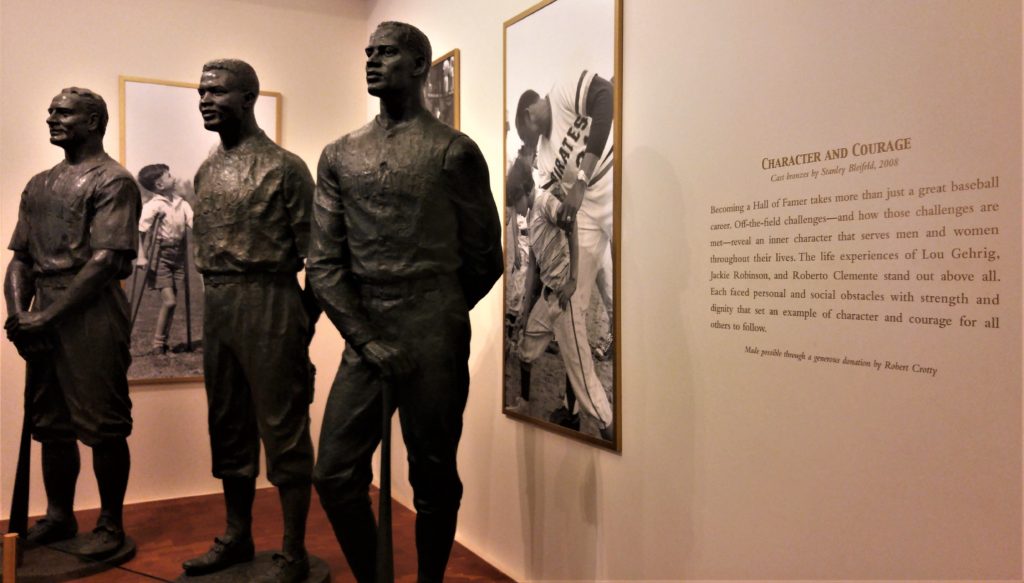 Later that afternoon a beaming Claire was likely the first woman to lead the annual parade down Cooperstown's Main Street. Behind her, 40 Hall of Fame heroes passed, sitting or standing on open-air flatbeds of new pickup trucks and interacting with adoring fans. At Doubleday Stadium just off the main drag, those same 40 champions stood behind Claire as she accepted the 68th annual J.G. Taylor Spink Award for sports writers amid a thunderous standing ovation.
In her acceptance, she pointed out that her son Joshua in the audience asked her what the award meant to her when she first got the news. "I told him I didn't know." It wasn't clear until she trolled through all her memories. Her mother Bernice's passion as a Jackie Robinson/Dodgers baseball fan, plus her career as a "hidden figure" chemist developing fuel cells for Neil Armstrong's moon mission. Her artist father William encouraging Claire at a low point in her life to make her dream of being a sports writer come true. She fought her way in, only to be forcibly removed from a San Diego Padres locker room because she was a woman. Padre first basement Steve Garvey and other players came to her defense. The very next day, the baseball commissioner decreed all accredited writers no matter what gender had a right to interview players in locker rooms after games. Claire would go on to be nominated for a Pulitzer Prize and inspire many others across the country to follow their own dreams.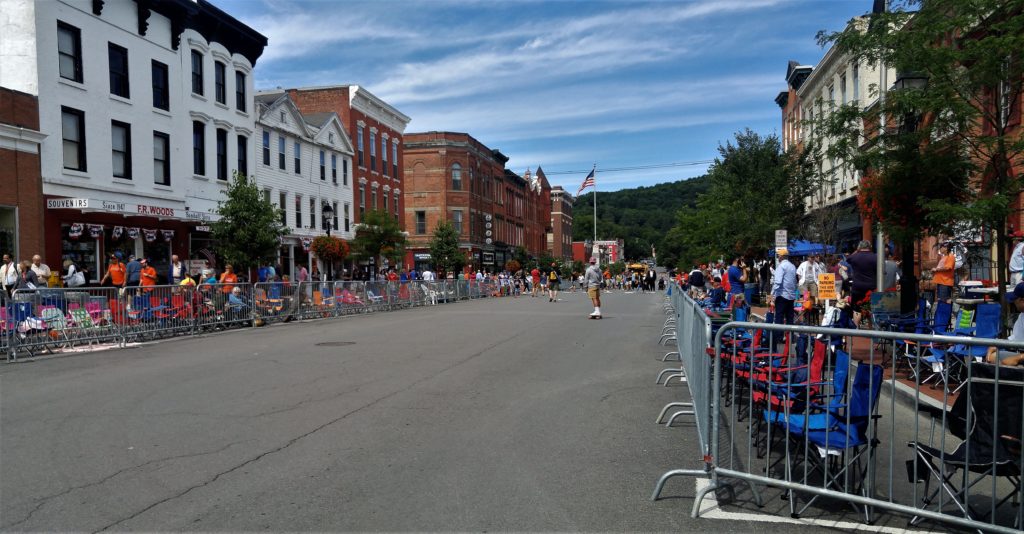 In her acceptance speech, Claire acknowledged her award's greater symbolism. "I stand here representing every person in my profession stung by racism and sexism and any other insidious bias but who persevered. You are unbreakable. You make me proud." Now, on this sunny day in Cooperstown she concluded with an answer to her son's earlier question, "This means everything to me."
Claire was speaking for us as well. To have shared in her special day in baseball's hallowed place and to have a niche in her life means everything.
An ESPN documentary about Claire Smith's career can be viewed at www.espn.com/video/clip?id=20138520. The episode was filmed in part at family friend Deal Wright's Baptist Church in Bristol,
Carl LaVO, a retired Courier Times editor, can be reached at [email protected].