How to view 300 years of history in a single Bucks County village.
Historic Fallsington is one of those rare villages where you can see 300 years of architectural history in the span of a few blocks. The settlement founded by Quakers in 1681 near the Delaware River rapids between Trenton and Bucks has always been tiny but prosperous on the King's Highway (today's old Route 13) linking New York with Philadelphia. It was a scrupulously tidy town abiding by strict moral guidelines. Witness this reprimand in Quaker meeting minutes from November 1683: "Ann Mil doth keep a disorderly house and sells strong liquor to English and Indians suffering them to drink til they are drunk. William Biles and Richard Hough to speak to her, and also about her daughter Mary's loose carriage which it is reported she is addicted to."
Fallsington used its wealth building homes and businesses in an evolution of popular style. Dutch Colonial. Late Medieval. Early Colonial. Georgian. Federal. Greek Revival. Gothic Revival. Italianate. Victorian. Craftsman. The village accomplished this with town pride as the retail hub of farms that once spanned Lower Bucks County. The construction of Levittown and Fairless Hills in the 1950s as well as U.S. Steel's former Fairless Works steel mill and 4-lane Tyburn Road edging the village put Fallsington's heritage at risk. The town faced down plans to demolish its iconic Burges-Lippincott House, a 160-year-old fieldstone mansion set to be replaced by a gas station. Community outrage motivated successful efforts in 1953 to buy the home and other threatened buildings while establishing Fallsington in 1955 as the state's first protected historic district of 90 buildings.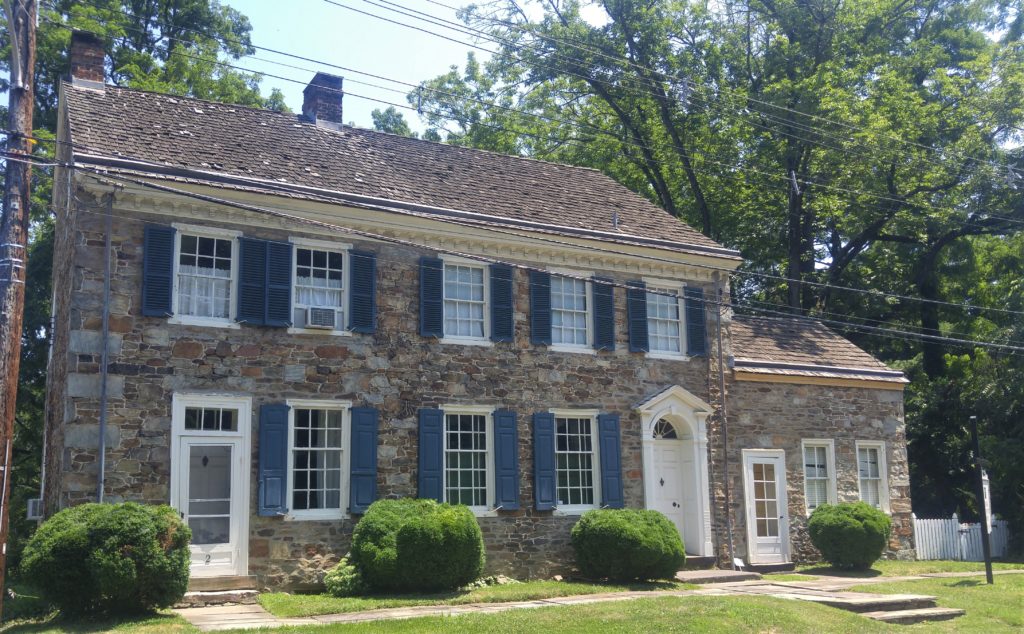 On my recent walk, a Las Vegas couple tracked along, shooting photos and videos while mesmerized by the antiquity of it all. Should you visit, here's a thumbnail guide for a stroll through the centuries.
– 1728: Gambrel (Dutch) Colonial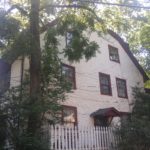 The Gambrel Roof House overlooking the town square was designed to replace a fire-ruined Quaker Meetinghouse where William Penn attended religious services. The building is distinguished by its two-sided gambrel roof with two slopes on each side. The design originated in English Normandy and favored by Dutch immigrants. The building owned by Historic Fallsington is subdivided into rental apartments.
– 1758: Late Medieval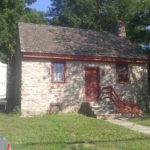 The schoolmaster's house, also owned by the society, is on South Main Street near Tyburn Road. The availability of fieldstone replaced earlier log construction. The style is typified by a steeply pitched roof, no overhang and normally one room in depth.
– 1760: Early Colonial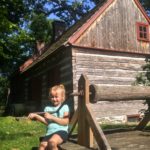 On Yardley Avenue is the Moon-Williamson Log House, believed to be the state's oldest still standing on its original foundation. I met up with Donna DeMaria and her granddaughter Skylar, 8, at the home where you can feel the many axe marks on hand-hewn logs. Donna, who frequently walks the village with her dog Bella, noted that two very old Sycamore trees towering over the front door are called the "bride and groom trees", planted by the Moon newlyweds who built the house based on a Swedish design. Guided tours can be arranged.
– 1768: Georgian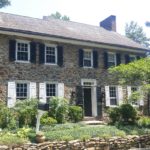 The private Hough House built by a local tanner is less than a block from the log house on Old Tyburn Road. It's a prime example of Georgian architecture, an elegant two-story structure with central entrance, two windows on either side and 5 windows across the top floor.
– 1829: Federal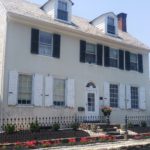 The home at 21 Yardley Avenue retains the Georgian symmetry but adds decorative touches like moldings over the doorway. The private residence is one of three across the street from the log house.
– 1866, Gothic Revival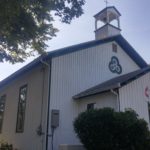 Fallsington United Methodist Church, also on Yardley Avenue, is celebrating its 150th anniversary. The house of worship features gothic flourishes like a steeply pitched roof, tall windows and pointed archway doors. The square bell tower reflects Italianate architectural attributes.
– 1879: Greek Revival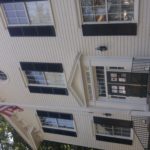 The Fallsington Library next door to the church features Greek Revival architecture popular on the East Coast in the mid-1800s. It's defined by a porch supported by columns, front doors with porticoes, rectangular transoms over the doors, fluting and rosettes decorating the upper floor.
– 1860-1900: Queen Anne Victorian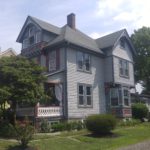 Like others in town, the private residence at 72 Main Street has a Victorian design popular in the latter 19th century. It's distinguished by a steeply pitched roof line of irregular shape, patterned shingles, cutaway bay windows and gingerbread trim.
– 1930s: Craftsman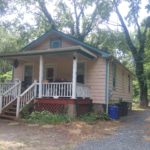 Throughout the village are many 20th century styles like this Craftsman from the 1930s on Old Tyburn Road below the Gambrel Roof House.
– 1940-present: Eclectic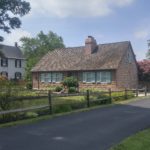 The uniqueness of Fallsington is enhanced by designs you might not expect like this Cape Cod on Main Street. Together, it helps thread the centuries into a single tapestry of American architecture. Enjoy!
Sources include "The Villages of Bucks County. A Guidebook" published by the Bucks County Planning Commission and the colorful"Historic Fallsington Walking Guide" available at Historic Fallsington Inc.'s office and store on Meetinghouse Square in the village.