Robert Seufert celebrates 50 years as a renowned Bucks County landscape artist.
Robert Seufert has the patience of a saint when it comes to his art. In his Fairless Hills studio, I was attracted to his oil of a Chester County farmhouse with its garden abloom. Look closely at "Lush Life V" and you see tiny little stipples of pigment rather than brush strokes. They are very precisely placed. Bob, pointing to the deeper magenta of an azalea bush, estimates thousands of miniature dollops complete the painting. It took him two months at 5 hours a day. Whew! Now stand back and look. Wow! It's an incredible masterpiece.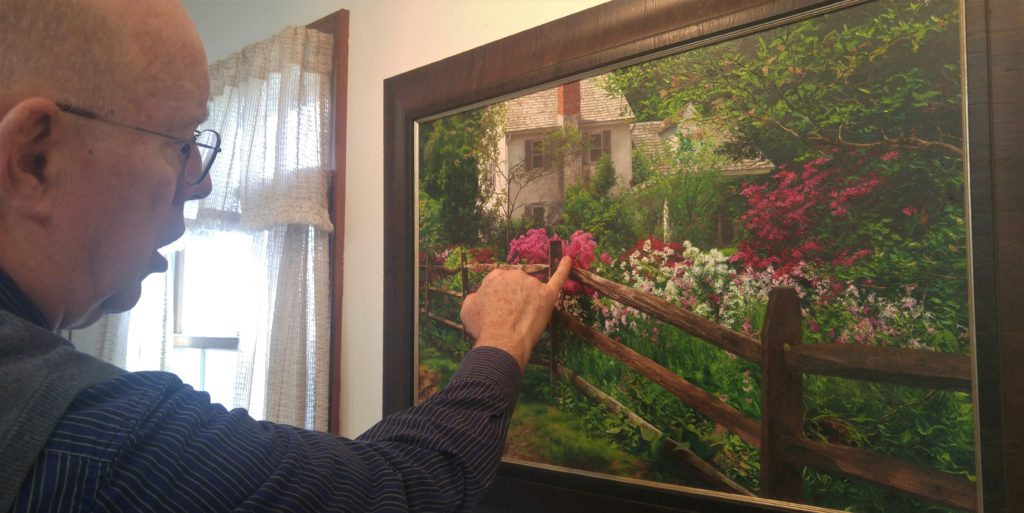 Seufert this month is celebrating 50 years as a nationally recognized artist, cast in the mold of the greats in Bucks County's celebrated arts history. An exposition of his works debuted May 5 for a month-long run at the Chapman Gallery in Doylestown. His canvases have earned scores of regional and national awards. Nearly 2,000 original works are in private and corporate collections in the United States, Canada, France, Germany and Japan. They're also in the permanent collection of the Michener Art Museum in Doylestown.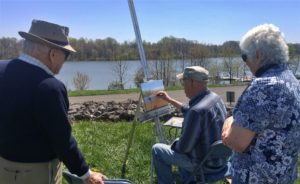 At my request, Seufert and I drove to Core Creek Park in Middletown recently so he could demonstrate his technique. He chose a bluff overlooking Lake Luxembourg and set to work with an amber-stained canvas, an aluminum easel, a flat palette to mix oil pigments and a painter's knife. His vision soon took shape: a water's edge forest spouting shades of green and gold amid a blue sky. Spectators marveled at the emerging scene, all from the tip and edge of Seufert's knife. He prefers the blade that can be wiped clean to avoid spillover of unwanted pigment.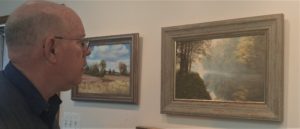 Seufert sustains a tradition that made Bucks famous a century ago. His style has been compared to the pointillism of French master George Seurat and the landscape artistry of Daniel Garber who with Edward Redfield and William Lathrop founded the New Hope group of the Pennsylvania Impressionist movement of the 1920s.
Seufert, a New York native, enjoyed sketching favorite Brooklyn Dodgers as a kid and took art lessons on Long Island. After his family relocated to Levittown in 1958, young Bob developed an interest in landscape subjects. A local professional artist/teacher suggested he seek another profession after reviewing his portfolio. That only inspired Seufert to seek another teacher – a salesman at the Reedman car dealership in Middletown. Ronald Keyes moonlighted as an art instructor and commercial artist. He convinced Bob to put down his brush for a painter's knife. At last!
Keyes' style was quick impressionism. Seufert took a different route, deftly working his knife with micro-intensity to get every detail just right for a soulful, photographic essence. "The rural areas of Bucks County provided me with a glut of subject matter and when I was old enough to drive I sought out scenery to render."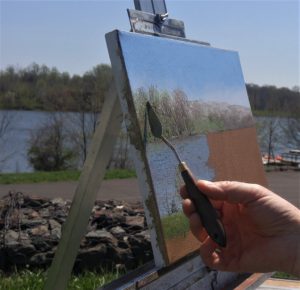 In years to follow, he would enroll at Bucks County Community College as an art major, then the highly respected Tyler School of Art in Elkins Park. Along the way he took all required courses: drawing, color, design, photography, sculpture, ceramics, art history and more.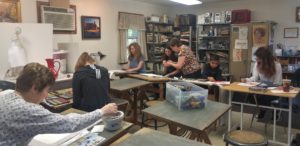 What was missing was the business side of art in "the pure world of capitalism." His indoctrination began at an outdoor exhibition in Greenwich Village. "Suddenly you were in competition. You produce your best work and put it out for sale. No safety nets, no guarantees, no nothing if you fail. It's you versus them. Suddenly you realize how many artists are out there trying to sell their works."
That led to signing contracts with galleries on consignment. Initially it was a disappointing experience. Contractual commissions reduced what he made for his work. "No one thought to teach us young students the business of art," Bob explained, using his knife with a surgeon's steadiness to finesse branches onto lakeside trees. "I suspected that most of my professors made the majority of their income from teaching. As I was to find out later, most exhibited in museums and top notch commercial galleries."
Seufert learned the ropes over time, being scrupulous about the galleries that exhibit his works and agents representing him in the larger world. Now in his latter days, he and wife Alice, both graduates of the community college and the Tyler School of Art, conduct a dozen or more fine arts classes for all ages from their studio on South Olds  Boulevard. They are joined there by son Patrick, a budding artist in his own right.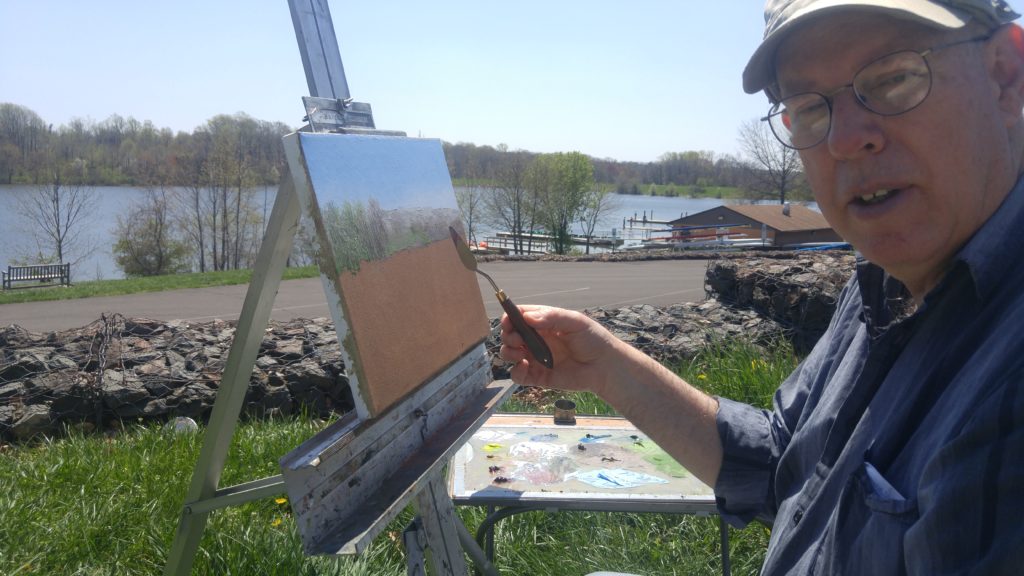 Looking back, Seufert agrees he's blessed to have sold 90 percent of all his paintings. "Skill, passion and knowledge, that's what it takes," he mused, using the tip of his knife to add a sense of depth and motion to waves on his Lake Luxembourg landscape.
Robert Seufert's works are on display through the end of the month at Chapman Gallery, 46 East State St., Doylestown. 215-348-2011. More information at www.SeufertArt.com