Copper, iron, lead, gold and more enrich Bucks County's mining history.
My grandchildren enjoy collecting unusual rocks like their mom who once bartered quartz found on Lehigh University's South Mountain for a set of new car tires in her college days. Dashiell and Margaux likewise are attracted to the glitter of fractured stone. Naturally I suggested a recent adventure at a working rock pit. Off we went, setting the GPS for Edison Quarry in Doylestown as guests of Joe Bucciarelli Jr.
His family-owned diggings are what Joe calls a "reclamation quarry" located in a wedge between Route 611 and Turk Road, a proverbial stone-throw from town. Work is underway to fill in the 70-year-old pit to be used for other purposes.
On the bright day of our visit, we experienced a real-life "Flintstones" business founded in 1929 by Joe's grandpappy. Back then, he noticed a rocky cliff astride Turk Road while riding a trolley into Doylestown. He knew at a glance it was argillite, a gray sedimentary bedrock in demand for new county roads. We gathered around Joe, a powerfully-built man with an athletic build, as a dump truck pulled onto a weight scale at the quarry office. I asked Joe if any unusual minerals had surfaced over the years. "Just Fools Gold!" he smiled. Asked what it's made of, he chuckled, "I'm a stone cracker not a geologist" while reaching for his smart phone that instantly revealed "pyrite" as the answer.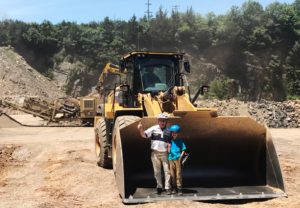 We ventured with Joe and son Nicholas, 29, into the quarry where a long-armed excavator, a grinder and conveyor belts kicked up a deafening sound while pulverizing giant slabs of concrete delivered by a steady stream of dump trucks. Amid the roar, fine gravel emerged destined for road beds, driveways and other projects throughout the county. All the while, more trucks arrived with stone-laced topsail to refill the deep recesses of the quarry.
Amid the roar, Margaux under her hard hat kept a tight grip on Mom's hand. No-fear Dash eagerly accepted Nick's offer of a short ride in a powerful front-end loader.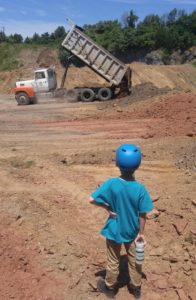 All of this was fascinating. It got me to thinking about the county's mining history. Anyone driving Swamp Road or Route 413 is reminded of it with each passing 20-ton hauler laden with stone from gravel pits in Plumstead, Chalfont and Wrightstown. Geologists have recorded 20 types of mined stone in Bucks the past 400 years, primarily limestone, argillite, iron and copper. Also veins of gold, barium, lead, silica, flagstone, sulfur and zinc. Quarrying has occurred at more than 70 locations in every corner of the county. The earliest known was a pit near the Delaware River in Upper Bucks where Native Americans fashioned arrow heads from glass-like jasper.
By the early 1700s, colonists in Durham village were smelting ore from five hilltop mines into iron products. One mine on Rattlesnake Hill is now a protected roost for bats.
Through the 1800s, farmers baked limestone in kilns to make fertilizer. In Doylestown in the mid-1800s, lead deposits below what is now Lake Galena produced a California-style "Lead Rush". In Solebury, a copper mine existed in the 1600s on Bowman's Hill, eventually the den of snakes and bats when it was rediscovered in the mid-1800s, then blasted shut. In the early 1900s, Bucks' only known gold mine recovered trace amounts for about 10 years in a gorge off Gold Mine Road in West Rockhill. In the 20th century, the Warner Company excavated vast amounts of gravel in Falls and Tullytown that created magnificent Van Sciver Lake. And so it goes along the back roads of our beautiful county.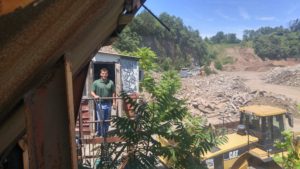 Back in Edison, the quarry continues to be refilled. Nick, who drives a Tesla and is a Penn State graduate interested in environmental sciences, led us up a dirt road to the rocky rim where the kids and I viewed geology in a single glance. The excavator and trucks were miniaturized by distance, a small cloud of dust rising above them. Hawks swirled close overhead, zooming down the face of the 100-foot gray rock face of the original quarry to the cobalt blue lake at its base. Mountains of soil stood on the far side, ready to be graded into the lake. Work has been underway for 15 years; it'll take another 10 by Nick's estimate. At that point, he plans to establish a solar energy field on the fill.
The Bucciarelli family is rightly proud of its multi-generational business that supports Bucks County's ever-needy infrastructure. For us, the visit was joyful. Margaux came away with fists full of colorful tile, glass and stone fragments to take home. Dash couldn't get over watching the rock crusher munch huge chunks of concrete into gravel. All in a day's work for the stone crackers of Edison.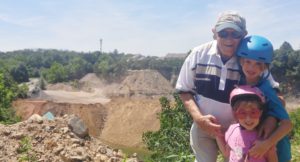 Sources include the Durham Township Historical Society and "Place Names in Bucks County Pennsylvania" by George MacReynolds published in 1942,