No history of Bucks is complete without some outhouse lore.
I can't say my wife is fond of them. But to me it makes sense to install reading racks in bathrooms. Most in my family have them. I see them in many homes. It figures. After all, the bathroom is like an office: lots of reading material and a place you go to take care of business.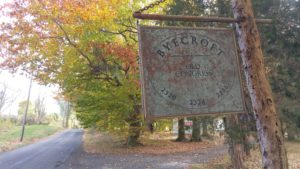 Back in the day, the "office" stood about 150 feet behind the house. It was a common sight in historical Bucks County. Today you see them behind old farmhouses on back roads and in ancient villages like Fallsington. Bucks artist Ranulph Bye inherited one in 1931 after buying a dilapidated farm he named Old Congress in Buckingham. He wasn't too keen on having to use the privy. But given the time spent there, according to daughter Barbara, he gathered the family to ceremoniously kick it over when indoor plumbing arrived.
The outhouse through history was called a "necessary". Rain or shine, winter or summer you'd scurry through the garden to the one place you could spend quality time in solitude. Better than a library for reading.
In that regard, here's some Outhouse 101. Why, for instance, do outhouse doors have crescent moon cutouts? In Colonial times few people could read. They looked for symbols. When nature called, women looked for the crescent moon. Men, the star. Outhouse archeologists conclude men let their outhouses fall into disrepair. Only those for females seem to have survived the test of time. No one knows why. There's also the mystery of the two-hole outhouse. If you look closely, the portals are often of different sizes, one to fit an adult, one a child.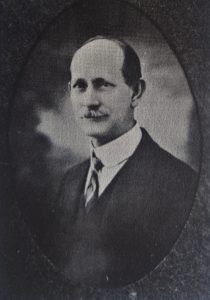 Kids learned to have fun with outhouses. Like moving them to a new locale, perhaps a busy intersection in the center of town on Mischief Night as I once witnessed in Davie, Fla. Or just knocking them over. Take this tale from old Hulmeville in Lower Bucks involving school superintendent Ed Martindell. "We used to play what they call 'Hunt the Horn'," recounted Dutch Afflerbach. "There were six players on each side. They would toss up to see who went out with the horn. Then we would go and hunt them. The group who had the horn had to stay together and the kids who did the hunting had to stay together. Those with the horn had to blow it intermittently."
So the chase was on. Suddenly two horns blared. The pursuit team concluded the hunted had split into two groups, each with a horn. Afflerbach's team naturally split into two hunt groups. During the spirited competition, Dutch jumped over Superintendent Martindell's backyard fence. "I saw the outhouse door open and some one blew the horn. I yelled to the other guys to come on not knowing it was old man Martindell in the outhouse at the time. I thought it was one of our guys. So the next time it opened the three of us pushed and it went over with the door down. I can see old man Martindell now, sticking his head out the window and yelling, 'Get it off boys; don't leave me in here.' We ran like the devil. All we could do was laugh. His wife finally decided to look for him because he was down there so long. He told her to get help; he couldn't get out because the door was on the ground. She went over to Louis Moser's and three men came and lifted the outhouse up and let old Martindell out."
Confronted the next day at school by the super, Dutch and others denied any knowledge. "We didn't know what he was talking about."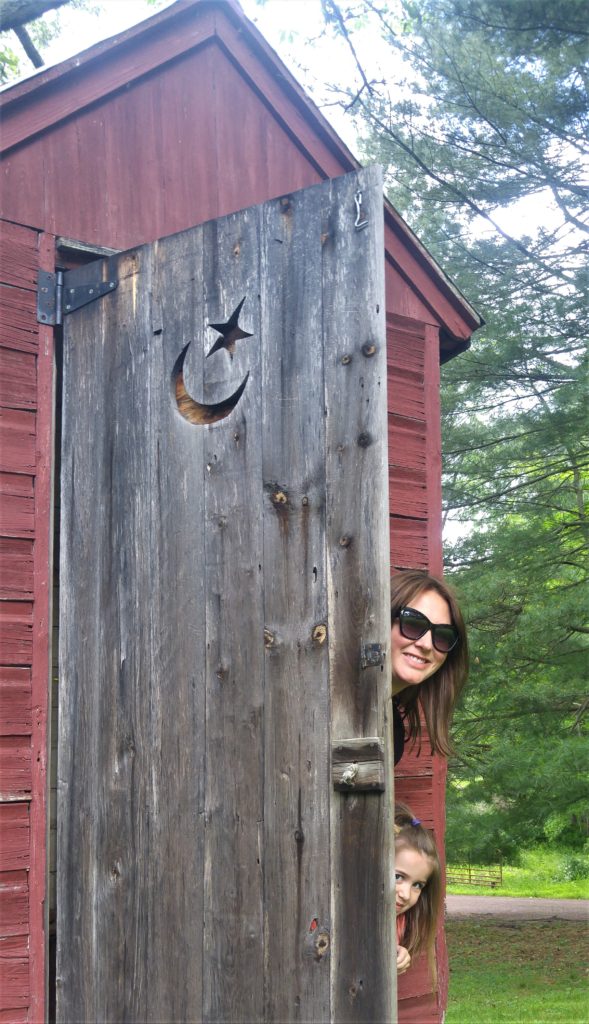 Afficionados talk of the dignity of the outhouse. Indeed, we wonder if Tom Jefferson might have ruminated on key phrases for the Declaration of Independence from his privy at Monticello. To check out that old tyme magic, Genevieve, Margaux and I headed to Tinicum Township's Sundale Creek Farm on Headquarters Road not far from sightseeing stops at the Frankenfield covered bridge and Vansant airport with its vintage aircraft. Eventually we braked at Sundale's roadside maple syrup shack. Down the slope is a cute two-holer with frilly window curtains and framed stitchery urging users to honor the space. Our inspection produced a cautionary judgment: It's not as ship-shape as expected. The door features cutouts of the crescent moon and the star. Hummm.
In closing, I offer a personal tale. Mary Anne and I were hiking Hawk Mountain in Berks County when we happened on an outhouse. Good thing. Sweetie had just settled in when she noticed a branch on the floor. She reached down. It moved. So did Mary Anne with full throttle scream. "Just a garter snake," I shrugged with a chuckle. "But maybe a rattler." Last time on that trail.
Sources for this column include "Hulmeville Borough Centennial 1872 to 1972″ by Donald Haefner and "Outhouse Trivia and Links" at https://www.legendsofamerica.com/we-outhouse2.html